If you are an avid reader, you may have bought and collected many ebooks for yourself. There may be many different formats in your ebooks, if you want to read your ebooks in Kindle e-reader, you must convert the ebooks to MOBI or AZW3. And if you want to read your ebooks in the Kobo e-reader, you must convert the ebooks to EPUB. Generally speaking, the ebook conversion is a little difficult and inconvenient, but we will introduce a great ebook software called calibre to you, it will let the ebook conversion become easy and effective.
What is the calibre?
Calibre is a cross-platform open-source suite of e-book software. Calibre supports organizing existing e-books into virtual libraries, displaying, editing, creating and converting e-books, as well as syncing eBooks with a variety of e-readers. It'll allow you to do nearly everything and it takes things a step beyond normal e-book software. It's also completely free and open source and great for both casual users and computer experts.
Calibre supports various formats, the input formats and output formats below.
Input formats:
.lrf, .rar, .zip, .rtf, .lit, .txt, .txtz, .text, .htm, .xhtm, .html, .htmlz, .xhtml, .pdf, .pdb, .updb, .pdr, .prc, .mobi, .azw, .doc, .epub, .fb2, .fbz, .djvu, .lrx, .cbr, .cb7, .cbz, .cbc, .oebzip, .rb, .imp, .odt, .chm, .tpz, .azw1, .pml, .pmlz, .mbp, .tan, .snb, .xps, .oxps, .azw4, .book, .zbf, .pobi, .docx, .docm, .md, .textile, .markdown, .ibook, .iba, .azw3, .ps, .kepub, .kfx, .kpf
output formats:
.epub, .azw3, .mobi, .docx, .fb2, .htmlz, .lit, .lrf, .pdb, .pdf, .pmlz, .rb, .rtf, .snb, .tcr, .txt, .txtz, .zip
Download and install calibre
you can download the latest calibre directly from this link.
Alternatively, you can download calibre using package manager.
On windows, you can install calibre using chocolatey.
choco install calibre
On Mac, you can install calibre using homebrew.
brew install --cask calibre
Convert ebooks using calibre GUI
1) Open calibre, add or drag an ebook file to calibre.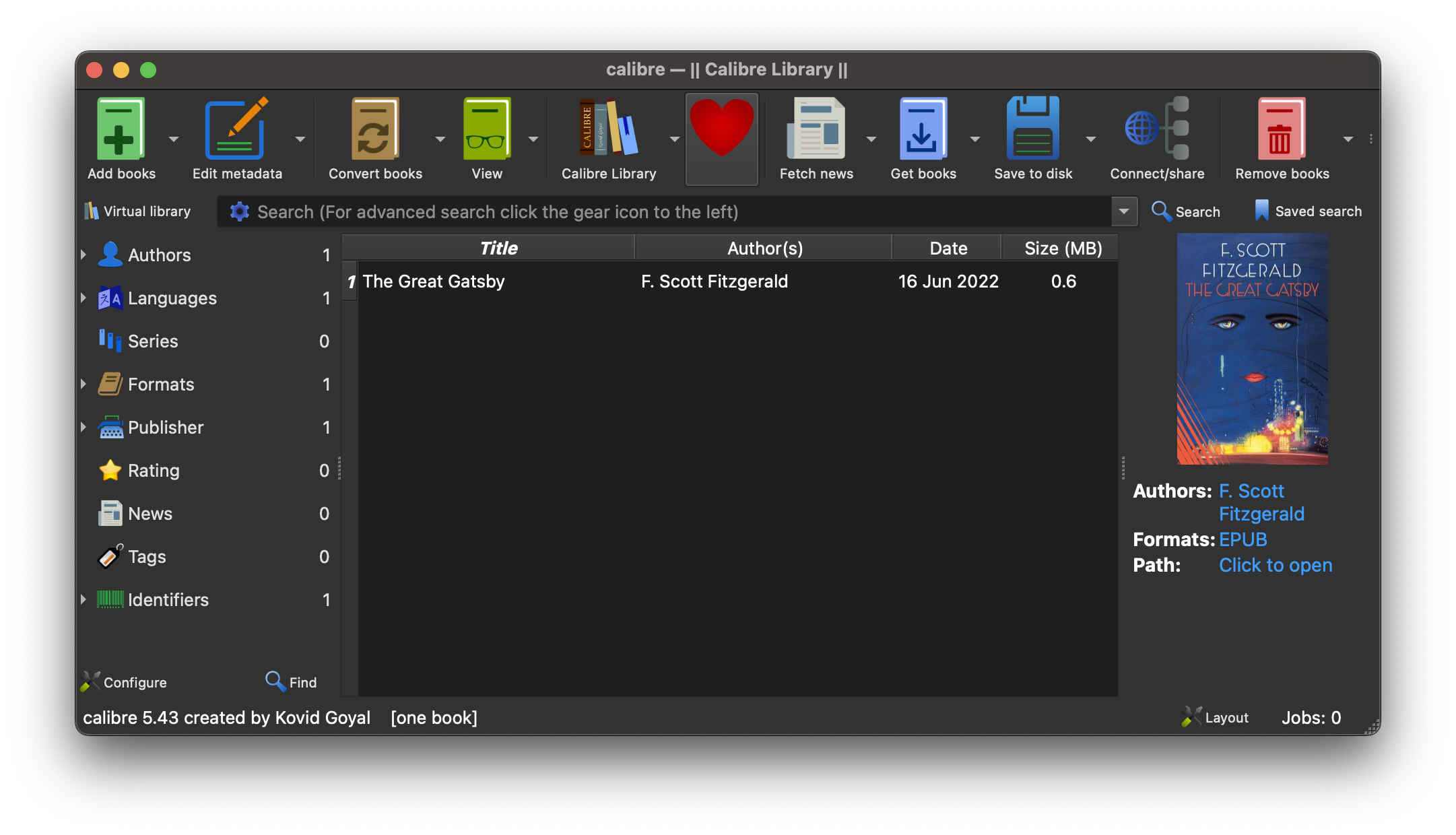 2) Select the ebooks you want to convert, then click the button "Convert books" on the toolbar.
3) Select the output format, also you can set the book meta while converting, then click the button "OK" to start converting.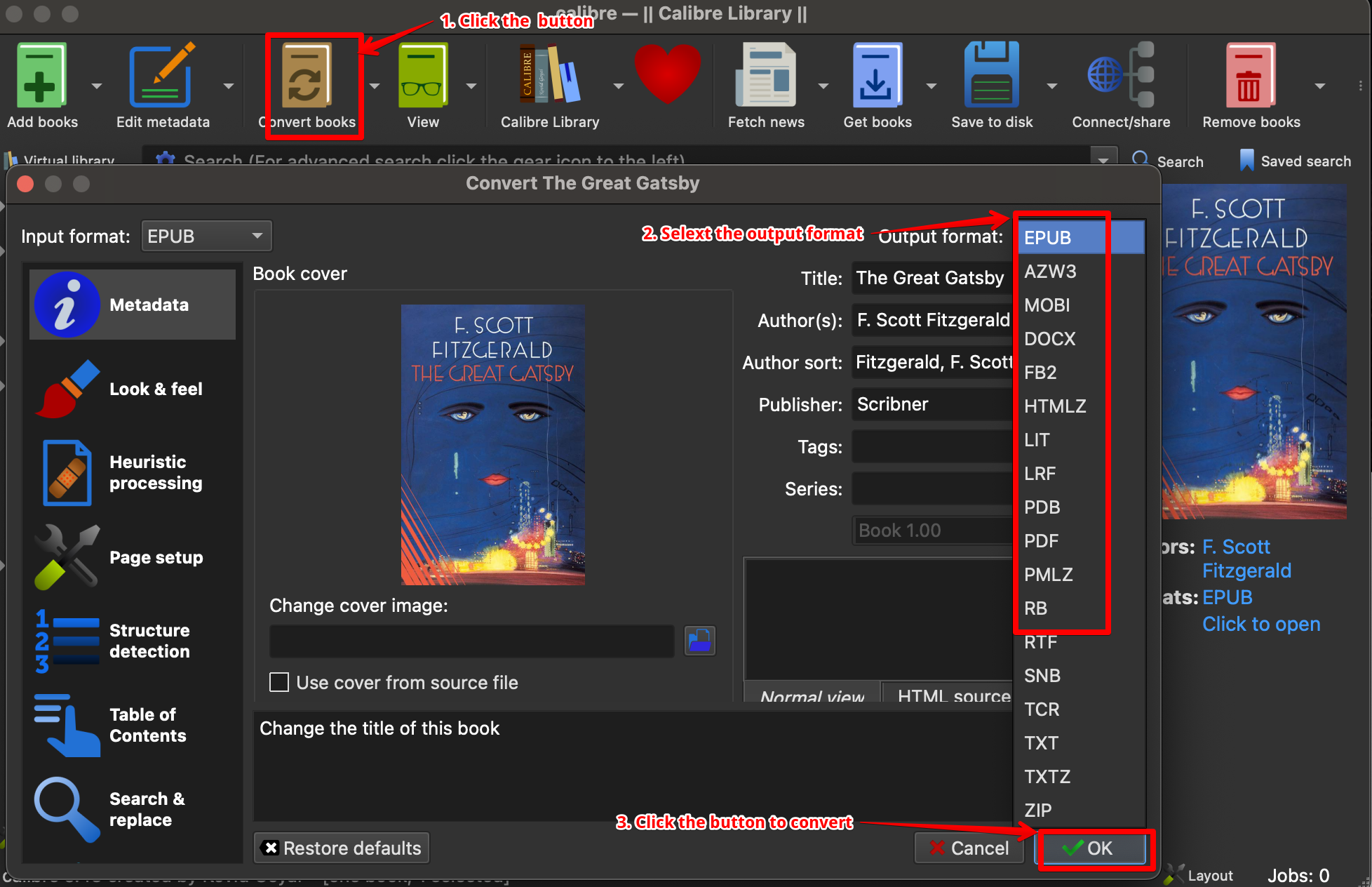 4) You will get the converted ebooks after converting, you can click the button "Click to open" to view your converted ebooks.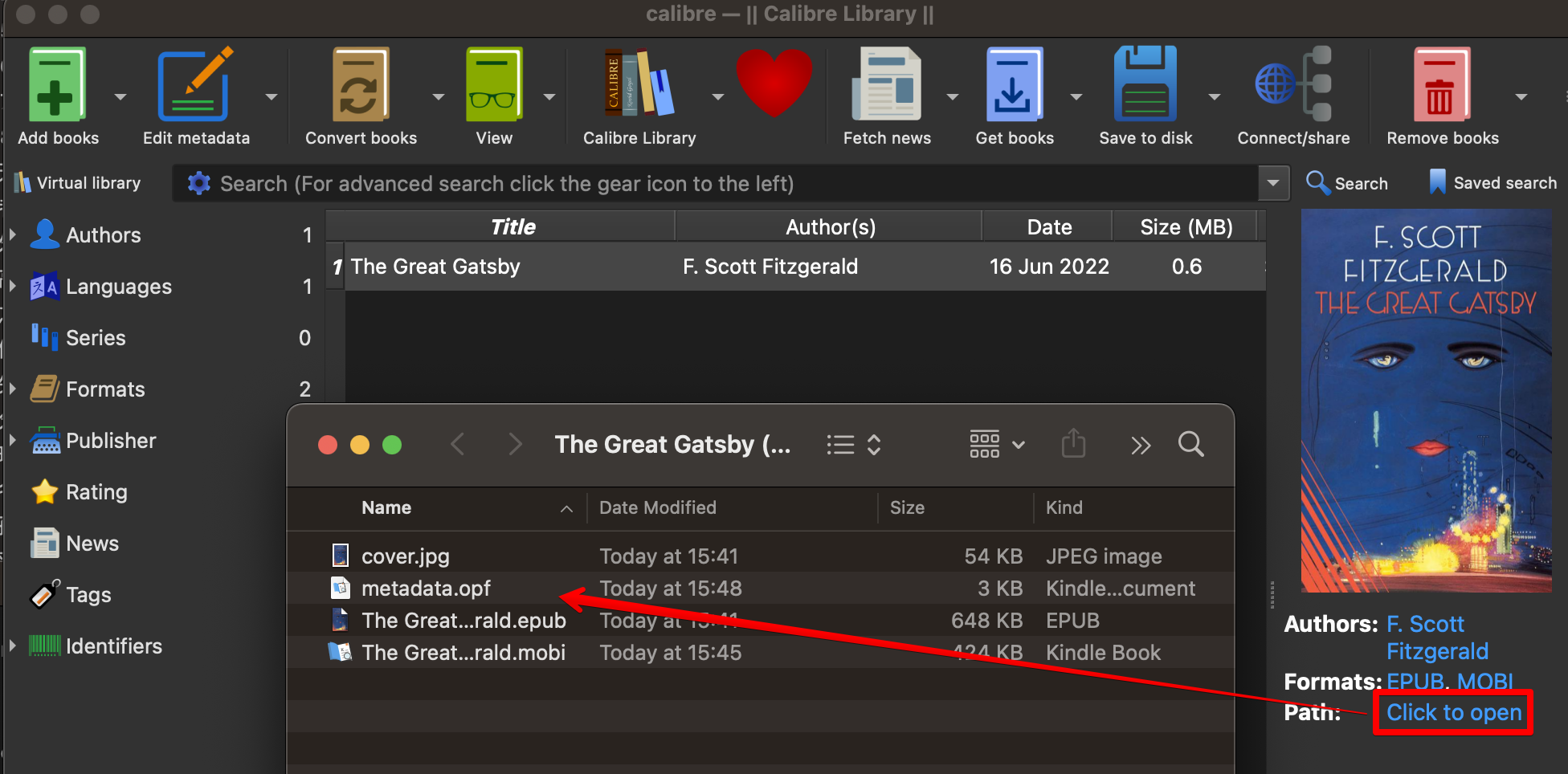 Sometimes your ebooks cannot be converted because the ebooks have DRM.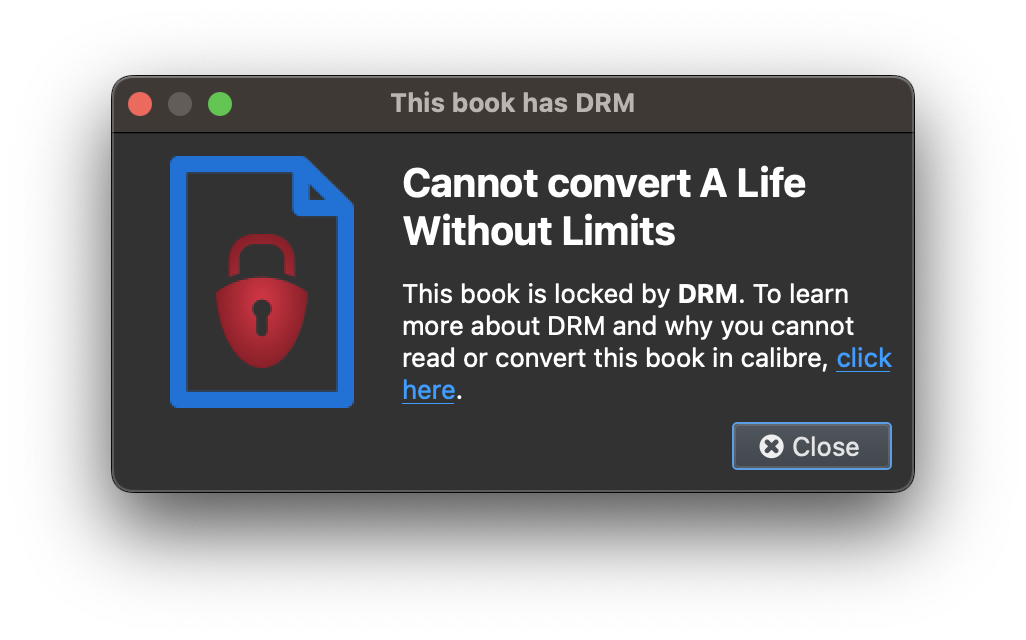 If your ebooks have DRM, we recommend you follow the guides to convert the DRM protected ebooks.
How to remove Kindle DRM with Calibre plugin DeDRM?
How to convert ACSM to PDF for Free with Calibre?
How to remove Kobo DRM with Calibre plugin?
How to backup Nook books 2022?
Convert ebooks using calibre CLI(Command Line Interface)
You can also use calibre CLI to convert ebooks except calibre GUI, sometimes the CLI is more flexible.
In order to use calibre CLI, you should add the calibre installation path to your environment path. You can follow the links to set the environment paths, Windows, Mac.
Now, you can use calibre command line utilities to convert ebooks, for example, convert an EPUB ebook to a PDF ebook. Open the Command Prompt on Windows, and the Terminal app on Mac, then type the command.
ebook-convert in.epub out.pdf
You can also set the title of the output ebook while converting.
ebook-convert in.epub out.mobi --title 'title name'
You can set PDF page size when converting an ebook to PDF format.
ebook-convert in.epub out.pdf --paper-size a4
You can read the full guide about calibre conversion CLI in this link.
Conclusion
calibre supports various ebooks formats, also it has many other functions about ebooks, such as ebooks management, meta edit, ebook reader, ebook edit, etc. So it is a very complex software for processing ebooks. If you only want to convert your ebooks, we recommend you to try the z3kit eBook Converter. It is easy-to-use, simple and fast, all you have to do is one click.
use coupon code to get 10% discount: SITE-10